[Cynful] Clothing & Co. TDRF, The Thrift Shop 06/ 09/ 2014
Hi Dolls!
Cyn has been slamming out releases and events like nobody's business 🙂
However we do have some exiciting news to share with everyone!
[Cynful] Clothing & Co. is pregnant! ……….JUST KIDDING! loool
Promise from Lil'Lace is joining the Cynful Team as a full time designer! YAYYYY Clap with me 🙂
We are beyond excited and simply thrilled to have her with us ❤
And another thing, were opened out inworld update group to receive special gifts and deals!
Its free to join for the next 2 weels!
So make sure to join the group… [Cynful] Clothing & Co Update Group
Now, Time to shop!
Remember happy girls are the prettiest!
First we have The Thrift Shop!
The [Cynful] Cloting & Co. Bell brought us some new texture styles and new colors of the Bell Bottom jeans.
They a modern version of groovy denim which features super wide flares from the knees down and a slight curled hem.
2 Jeans Textures (used + regular), a wide belt that is controlled by a hud to give you a choice of 8 different belt colors and 4 metal-buckle color options and low rise to sit nicely on the hips and flatter your booty.
Jean Texture Options: Regular + Used.
Belt Color Options: Black, Brown, Tan, White, Green, Pink, Red and Teal.
Metal Buckle Options: Gold, Silver, Bronze and Black.
Set your mind back to the late 80-90′s for some inspiration of a fashion revival. This Item is 100% mesh and comes in 5 Standard Sizes. ♥
Next we have another round of TDRF!
[Cynful] Clothing & Co. created 3 colors in The Cropped Denim Jacket!
This jacket works with so many different outfits. Pair it with a cute summery dress or throw on a pair of matching jeans. 
Each jean color comes in 3 different washes and 8 metal color choices for the buttons.
Note – there are no appliers for this jacket.
Also, don't forget we also have the denim jumpsuit as a new release in the main store.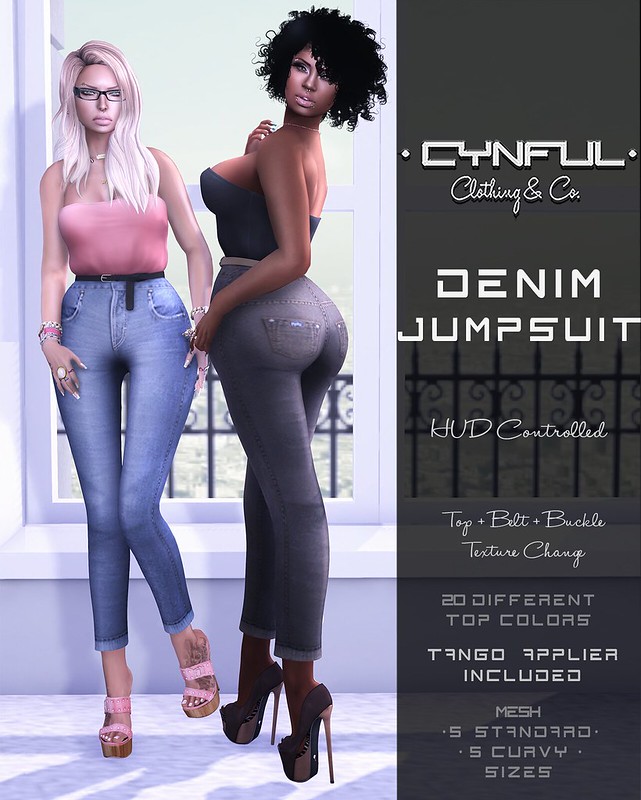 Almost all  [Cynful] Clothing & Co Items (except current Event Items) are available on Marketplace – please click following banner to be forwarded:

Happy Shopping,
♥ Cyn